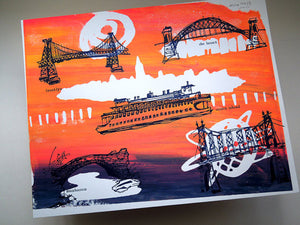 Five Boroughs #57
Sale price Price $ 25.00 Regular price
My stylized, stylish and carefully observed sketches of New York City landmarks, printed entirely by hand in water-based colors on recycled cardstock. Such a cool idea for a gift -- personal and one of a kind!
These unusual silkscreen prints remind me of time-lapse photography, where the sky and sea seem to rush past while constructed objects hold still. I love the cotton candy colors balanced with my wiry, muscular little drawings.
I printed them with paint instead of ink and each is one of a kind and unrepeatable.
This one is #57 from a micro edition of 60 one-of-a-kind silkscreen monoprints and features electric sunset hues of swirly orange sky and purple water.
signed, marked Unique #57 recto © Kathryn DiLego; no copyright transferred with sale