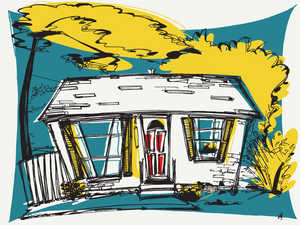 Custom home portraits by Richard Kaponas & Kathryn DiLego
Sale price Price $ 200.00 Regular price
A unique custom house portrait from your photo! Kathryn's loose, friendly line drawing and Rich's precise forms and elegant color sense combine to make an original and personalized illustration of your home. Rich studies the architectural perspective and colors of a structure in its landscape while Kathryn finds the rhythmic patterns of textures and quirky details. A collaborative one-of-a-kind, hand-drawn digital illustration, output by a professional printer using vibrant, archival pigment inks on soft cotton paper and 100% satisfaction guaranteed.
To  get started, please select from the Available Options, and Add to Cart. You will be able to add Special instructions for seller before checking out:
art print only: $200
art print + mat: $220
art print + mat + frame: $250
It would make a meaningful gift...A drawing of your friends' new apartment building as a housewarming gift...A drawing of your childhood home as your parents' anniversary gift...A drawing of the studio you're saving up for so you have a quiet place to write as a gift for yourself.
signed and dated verso © Richard Kaponas & Kathryn DiLego. All Rights Reserved.