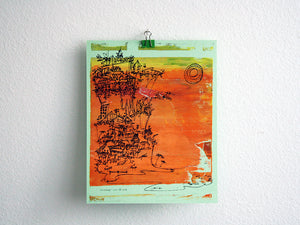 Cliffhanger monoprint
Sale price Price $ 25.00 Regular price
My detailed doodle of seaside cliff houses on a beach, which I silkscreen printed, layering crisp clean lines over individually hand-mixed painterly backgrounds so they have a cool 3-dimensional effect almost like they're animation cels.
These are monoprints -- each is an original, and they cannot be editioned or repeated. They feature thick textures,  and subtle shimmers that can't be obtained in a digital print.
In this print, the background is a textured wash of summer sunset orange paint, contrasted against the fine black lines of my ink drawing.
They're striking from a distance and the level of detail rewards closer inspection. They aren't overly large, and they look amazing in a group... display just one to add interest to a small space, or hang several together for a big impact.
titled, signed, marked as Unique in pencil © Kathryn DiLego; no copyright transferred with sale