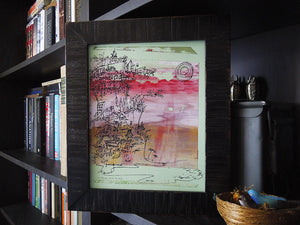 Cliffhanger monoprint
Sale price Price $ 25.00 Regular price
My detailed doodle of seaside cliff houses on a beach, which I silkscreen printed, layering crisp clean lines over individually hand-mixed painterly backgrounds so they have a cool 3-dimensional effect almost like they're animation cels.
These are monoprints -- each is an original, and they cannot be editioned or repeated. They feature thick textures,  and subtle shimmers that can't be obtained in a digital print.
In this print, the background is soft streaks of Neopolitan colors (strawberry pink, cream, and chocolate brown brown) contrasted against the black strokes of my limber line drawing.
They're striking from a distance and the level of detail rewards closer inspection. They aren't overly large, and they look amazing in a group... display just one to add interest to a small space, or hang several together for a big impact.
titled, signed, marked as Unique in pencil © Kathryn DiLego; no copyright transferred with sale