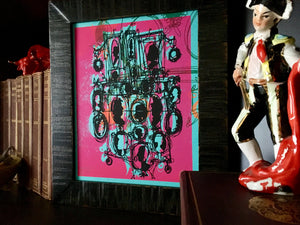 Cameos #104
Sale price Price $ 20.00 Regular price
My happy drawing of classic cameo silhouettes, printed by hand in bold, neon colors on bright blue recycled 8x10" cardstock.
The electric colors have a rich texture and each print's unique (not a digital reproduction). Perfect for bringing a pop of quirky-sweet to a small space like a dorm room or nursery.
check out the options for adding a mat or colorful handmade frame by Signed & Numbered!
Paper Size : 8 x 10" (20.3 x 25.4 cm)
Image Size : 7 x 9" (17.8 x 22.9 cm) with irregular edges
Cardstock : recycled 100lb Pop-Tone by French Paper
pencil signed, marked Unique Ed. II #104 recto © Kathryn DiLego. All Rights Reserved..