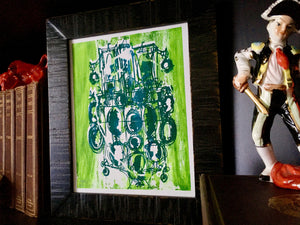 Cameos #051
Sale price Price $ 20.00 Regular price
Loopy, ornate Cameos screenprinted by hand in textured green paint on bright white for a vibrant, one of a kind print to bring a kiss of color to a small space.
Paper Size: 8 x 10" (20.3 x 25.4 cm)
Image Size: 7 x 9" (17.8 x 22.9 cm) with irregular edges
Stock: recycled 140lb Pop-Tone (by French family paper mill)
Options: add a mat or colorful wooden frame (by Signed & Numbered)
pencil signed, marked Unique Ed. II #51 recto © Kathryn DiLego. All Rights Reserved.