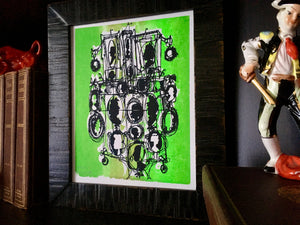 Cameos #046
Sale price Price $ 20.00 Regular price
My sweet cameo silhouettes illustration in black and bright green on crisp white recycled cardstock. It would be a fun, friendly screen print for a nursery, or a playful, pretty preppy poster for a cubicle.
This print is totally one of a kind, with cool textures you can feel. I hand-printed it myself with waterbased paints on sturdy French paper. It's just large enough to make an impact and show detail, without taking up a lot of wall space.
Paper Size: 8 x 10" (20.3 x 25.4 cm)
Image Size: 7 x 9" (17.8 x 22.9 cm) with irregular edges
Stock: recycled 140lb Pop-Tone (by French family paper mill)
Options: add a mat or colorful wooden frame (by Signed & Numbered)
signed, marked Unique Ed. II #46 recto © Kathryn DiLego. All Rights Reserved.