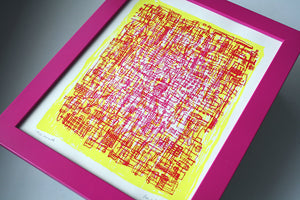 Pink Lemonade
Sale price Price $ 20.00 Regular price
My obsessive, complex line drawing looks like crazy computer circuits, hand printed in happy raspberry pink over a lemon yellow background on soft gray paper.
To make these unusual, impactful prints, I coated a silkscreen with UV sensitive emulsion and let the sun expose my line drawings to create a stencil. My go-nuts illustration and analogue printing process make for a wonderfully distressed, glitchy look. The CMYK Magenta and Process Yellow inks seem to vibrate against the pale gray paper.
Limited Edition of 100 titled, signed and numbered recto © Kathryn DiLego. All Rights Reserved.